Festival Season is upon us here in New Orleans! The weather is absolutely fabulous this time of year, and the music events just keep rolling! We just finished up
French Quarter Fest
a few days ago, and we are closing in on the premiere music event of the year: the
Jazz and Heritage Festival
(aka "Jazz Fest"). Can't wait!
Trombone Shorty
Fais Do Do Stage - Jazz Fest 2011
So - what's important for a lady to know and plan for before attending these events so she can stay Fashionably Chic while still maintaining her cool? Lots of things! I'll share a few...
To start... here's a little inspiration of a few Festival Chic looks from ladies at Coachella last week. They seem to do it right in California!
Festival Chic ladies at Coachella
Cool Festival Chic Look
Celebs at Coachella - fringe and feathers
But ok - I'm not in my 20s anymore, and I'm not sure I was ever this cool even when I was 20-something! And although the weather is really nice here now, it is not "California weather," if you know what I mean, so we must prepare for Jazz Fest New Orleans-style! Here's how to get started:
1) The Right Handbag - It is absolutely essential to carry the right handbag! The bag you carry all day will no doubt make or break your experience. It will be the thing that solves all your problems or the thing that weighs you (and everybody with you) down all day and night.
And even though it sometimes can get a little too sticky at these events to really pull off the cool "festival chic" look you had envisioned, you can at least carry a cool-looking bag to make up for the sweaty "tank top and cut-offs" look, right?
Things to consider in a handbag...
Hands-Free - Cross body styles are great, but totes can also work if you don't mind swinging one over your shoulder and carrying all your friend's stuff. :) You will be dancing, eating, drinking, clapping and walking a lot! Get ready for that and be hands-free. This is essential!
Thin strap - I once walked away from Jazz Fest with an awful strap tan/sunburn on one shoulder. The strap was comfortable, but it was wider than my tank top strap and cause all kinds of problems! It also rubbed off my sunscreen so it actually caused me to burn on one shoulder! Never again!
Easy access to phone and money - You will be texting friends, snapping photos, checking your iphone Jazz Fest app for music schedules and stages, and also reaching for a few dollars here and there in crowded lines for food and drinks all day long. So keep these things in open pocket that are easy to access, but not so open that they fall out. You don't want to fumble, so keep it simple and carry the minimum (cash, ID, credit card).
Awesome Fest Food - the options are endless!
Size - You will need enough room for essential items (sunscreen, money, IDs, lip balm, hand sanitizer, sunglasses, etc.), but make sure the bag is not too big or else you will fill it up with too much heavy stuff! Keep it light and easy - you will be glad you did!
Function - One problem I always have at these events is figuring out where to put my cup while I eat. The food is absolutely fabulous at Jazz Fest, and you will want to sample a lot of it while quenching your thirst with a cold drink. Many of the dishes are messy and are 2-handed operations, so where to put your drink? One year I carried a tote with open utility pockets on the outside and they ended up being perfect for cups! I also have managed to place my cup just inside of a cross body bag while I navigated a platter of deliciousness. Be creative, but make sure you have some kind of pocket solution. Your friends will be jealous!
Style - It's a music festival! How about a little fringe? Have some fun and jazz up your look. Go for it!
2) Seating options - Here is a
typical New Orleans Jazz Fest outdoor stage scene:
Jazz Fest Outdoor Stage
Although some of the tented stages have folding chairs and seats available, most of the outdoor stages look something like this. As you can see, you will either be sitting on the grass, or sitting on a folding chair (if you choose to bring one). Or perhaps even just standing!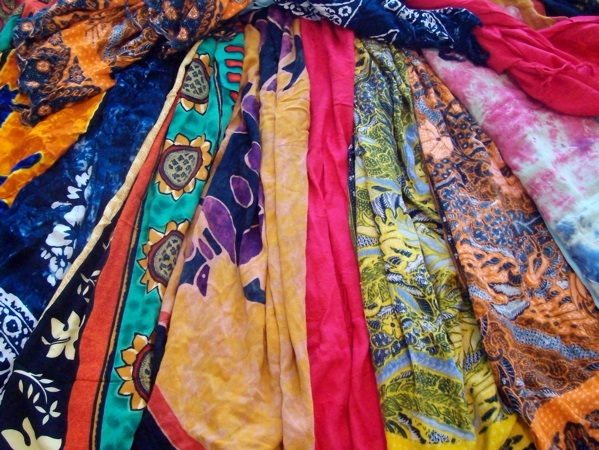 Pack a sarong
I personally prefer to just pack a sarong and fold it up in my bag so I can be hands-free when walking around. Not as comfortable as a chair, but allows you to be more mobile and flexible. And sarongs are so thin they fold up to nothing and can be easily thrown in your bag. Plus - they are usually big enough for at least two people, which is also nice.
3) Sunshine - In the photo above, also note the bright blue skies and the intense sunshine! It is absolutely essential to wear a hat, to slather on sunscreen, and to pack extra sunscreen for reapplications. It can get hot in New Orleans, and the sun down here is very intense. Be prepared, and also drink lots of water all day long!
I know, some of these things may seem obvious, but if you are packing and preparing for Jazz Fest right now, it may help you think of a few last-minute things you hadn't considered.
Be prepared, but above all have fun! Let the day unfold by itself, don't over plan, visit stages and listen to music you've never heard before, and save room for all the awesome treats New Orleans has to offer!!
www.uptownredesigns.com
Upcycled Bags Handmade in New Orleans